Meet the Owners: Dan & Nancy Morrow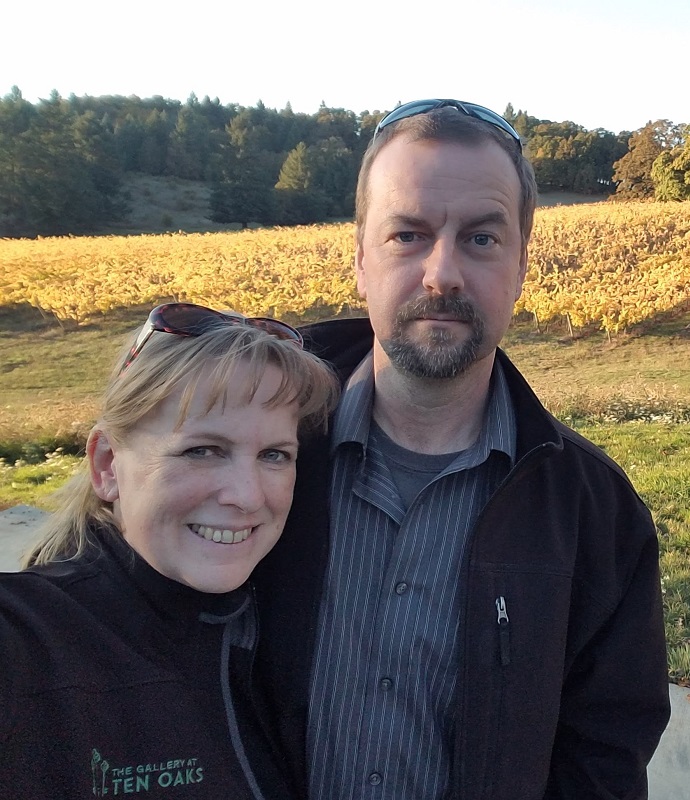 After running Movietime Video for 15 years, Dan and Nancy Morrow weren't sure what their next adventure would be for the 1908 Craftsman house they purchased in 2001. A couple of artist friends told them the building would make a great art gallery and wine tasting room so in July 2016, The Gallery at Ten Oaks was launched.

With neither one being an artist themselves, Dan and Nancy leave the art side of the business to those who know it best - the artists. They focus on the business side of running the gallery. Dan's 30 plus years of software programming and Nancy's 30 plus years of administrative work and event planning provide a perfect blend to running the gallery.

Over 40 artists from Oregon and Washington are represented with over 900 pieces of art to choose from. The Craftsman house is the perfect setting as art can be viewed from the main floor and upstairs - including lit closet areas! On the main floor two Featured Artist shows rotate every two months, and new art is continually arriving and rotating throughout the upstairs. Dan and Nancy welcome you to their gallery and invite you to enjoy a glass of local Oregon wine or a cup of coffee or tea as you browse.

Native to Oregon, Dan and Nancy moved to McMinnville, Oregon, in 2000 after living out-of-state for almost 12 years. They have two grown children, Andrew and Tracy, a grand-dog and grand-cat, and just welcomed their first grandchild in October 2020!