For twenty years River Gallery has specialized in Northwest Fine Art to Folk Art. It is home to the famed Wild Women Show each January. New exhibits of 2-D and 3-D art monthly.
Window Show Artist for June 2019 - Dan Brummer
Dan has a unique talent to share with River Gallery during the month of June 2019. It is difficult to reveal in a single photograph the levels of knowledge, accuracy and craftsmanship required in the execution of his scaled boat and ship models.
In the USA models seem to be considered art as they are usually exhibited or auctioned along with fine art. The Boston Museum of Fine Arts reopened it's ship model gallery in 1982.
He specializes in models of period ships and traditional boats where wood is the primary material. He works from museum plans or contemporary boat construction plans or ship draughts. When possible, he lays up rigging line from fine threads, so the number of strands, diameter and direction of lay will be historically accurate.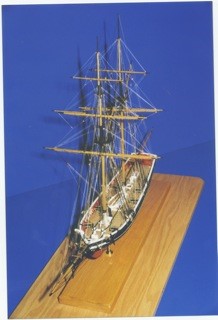 Focus Show Artist for June 2019 - Richard Bunse
Richard's watercolors and acrylic paintings are influenced by his intimate knowledge of the rivers, forests, and beautiful pastoral valleys of Western Oregon.
His art pieces include drawings, watercolors, and paintings. He studied art at Western Oregon University in Monmouth, Oregon and he continues to teach drawing classes and manage a life drawing studio for local artists and students at the gallery.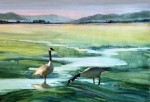 Window Show Artist for July 2019 - Sandy Houtman
Since 1967, I have had my hands in clay. About 10 years ago I started working in porcelain and I've found it a challenge but also a gift. The whiteness of the fired clay and it's silky texture as I work with it are both reasons I enjoy using this pristine clay.
The work you see here has been carved when the clay is like hard butter. A black underglaze is applied to the entire surface, allowed to dry and then it is wiped away and finally scraped away to get the completely white surface areas. The red glaze is a copper red called Ox Blood. These reds are somewhat difficult to attain as the firing atmosphere needs to be reduced (removal of oxygen) and the glaze must be applied thick enough to give a good red. There are often losses due to placement of the pot in the kiln, too much oxygen in one area of the kiln or not quite enough glaze….or too much and it runs!
I hope you enjoy the work as much as I enjoyed creating it!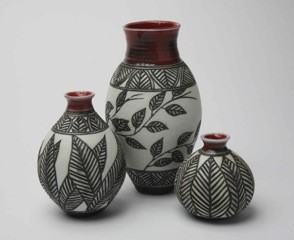 Focus Show Artist for July 2019 - Sheryl Thompson
Sheryl Thompson is a native to the Pacific Northwest and was born and raised in Seattle, WA. She is a paper arts and multi-media enthusiast and creates combinations of color and texture inspired by her materials. Her vibrant art reveals her inspiration from the natural world. She is one of the original founding members of River Gallery in Independence, OR.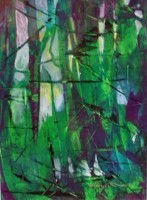 184 S Main St, Independence, OR 97351
503-838-6171
rivergallery97351@gmail.com
rivergalleryart.com
Open Tues - Sat, 11am - 5pm