For twenty years River Gallery has specialized in Northwest Fine Art to Folk Art. It is home to the famed Wild Women Show each January. New exhibits of 2-D and 3-D art monthly.
Updated Hours
Come to River Gallery to enjoy our creative artist's art work to enhance the beautiful Summer weather! We have two special events during the months of July + August. There will be a Ceramic Artists Showcase which will include a variety of ceramic pieces by numerous artists. There will also be a Texture in Color duet show during this mid Summer season. Our hours are Thursday - Sunday from noon-4:00pm.
Remember that River Gallery has its own YouTube channel. Feel free to check it out at:
https://www.youtube.com/channel/UCTox1Q0WNXqkdktYc5vUGnw
Texture in Color Show at River Gallery in July + August 2021
This is a duet exhibit with art pieces by Nancy Eng and Katy Vigeland. Nancy Eng and Katy Vigeland have been getting together to make art, share, and support each other's art endeavours for almost 20 years. They both draw inspiration from continuous learning and trying new techniques. Through their weekly meetups, texture and color are the two of the main concepts that have consistently surfaced in their exploration of new ideas.
This exhibit continues until the end of August 2021.
Nancy Eng's Artist Statement:
"Being a working artist born and raised in the Pacific Northwest I draw from the events surrounding me. My art starts from photos, sketches and memories. Home is an influential aspect of my artwork. Bit by bit, my paintings take on their own personal expressions. I am captivated by the act of creating and the unpredictability of where each painting will take me during these changing times."
"As You Can See" by Nancy Eng
Katy Vigeland's Artist Statement:
"My creative process involves applying layers of paint, ink, papers, and pencil to paper or board. I use contrasting elements when creating my artwork: light and dark, transparent and opaque colors, soft and hard edges, thick and thin lines. Currently I have been working with visual texture and color to express the idea of bringing order to chaos. Certainly world events feed into this theme but the paintings also represent bringing calm to frenzied energy or clear focus to confusion."
Painting by Katy Vigeland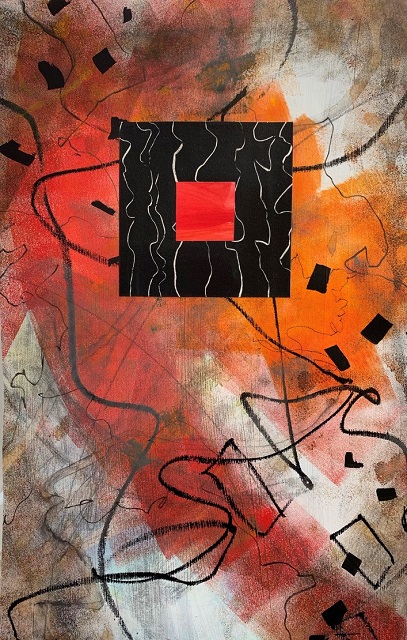 Ceramic Artists Showcase in July + August 2021
The following artists will be featured in the window at River Gallery:
Rebecca Arthur
Ginny Gibson
Carolyn Taggart
Sandi Houtman
Cindy and Don Hoskisson
Louie Gizyn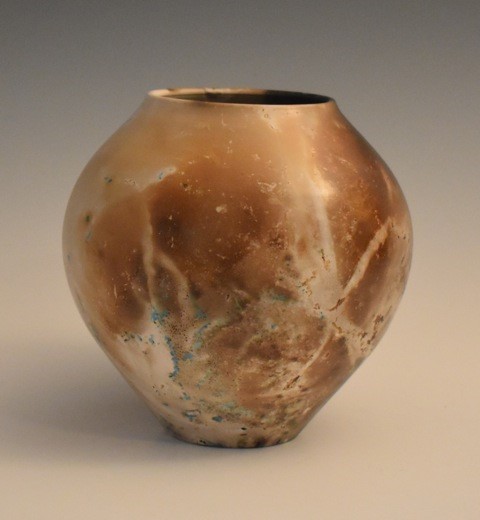 James Kirk Art Retrospective in Aug 5 - Sept 5
A large group of drawings and paintings by James Kirk have been thoughtfully selected from his studio. The collection of both framed and unframed pieces will be available at the River Gallery in Independence, OR from August 5th - September 5th, 2021 with and opening reception on Saturday, August 7th, 2021 from 12:00 noon - 4:00 pm. Look for updated event information on Facebook and on our website at:
rivergalleryart.com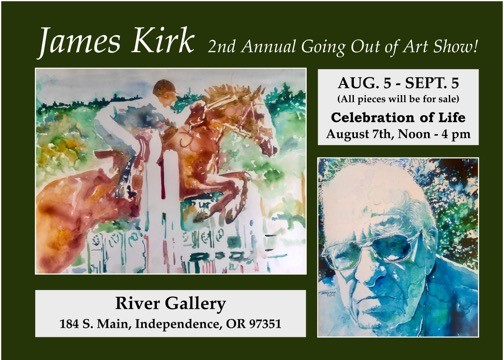 184 S Main St, Independence, OR 97351
503-838-6171
rivergallery97351@gmail.com
rivergalleryart.com
Thursday - Sunday, 12pm - 4pm