For twenty years River Gallery has specialized in Northwest Fine Art to Folk Art. It is home to the famed Wild Women Show each January. New exhibits of 2-D and 3-D art monthly.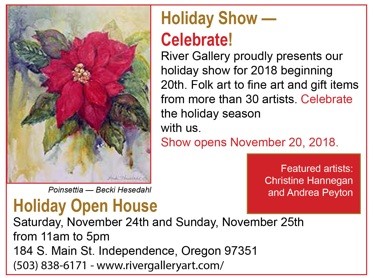 As we close out the year, a number of special events are coming up, and we hope that you will join us. Please check our website, www.rivergalleryart.com for pictures and more news, including the prospectus for the upcoming Wild Women show.
Holiday Show 2018
November 20th, 2018 - January 12th, 2019
Starts at 11:00 am each day
Ends at 5:00 pm each day
Come join us for the annual holiday show and for a cookies and coffee Open House on Saturday, November 24 and Sunday, November 25 from 11-5. This is the time of year when we ask our artists to bring many smaller pieces to help you with your holiday shopping. Drop by to see new paintings, jewelry, ceramics and other surprises.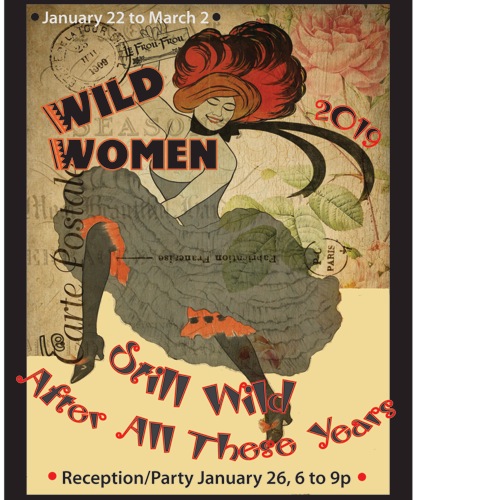 Wild Women Show 2019
Join us at our widely acclaimed annual event...The Wild Women Show! We are still wild after all these years! Exhibit runs from 1/22/19 to 3/2/19. Reception on 1/26/19 from 6-9pm.
Dates to Remember for Artists:
Monday, January 7th: deadline for submission of .jpg images and jurying fees
January 13th and 14th: jurying and notification of artists
Saturday, January 19th — Sunday, January 20th: accepted art brought to the gallery between noon and 3:30pm for hanging
Tuesday, January 22nd: show opens
Saturday, January 26th: Opening reception, 6-9 pm
Saturday, March 2nd: show closes
Unsold work to be picked up between noon and 3:30pm on Friday, March 1st or Saturday, March 2nd
Public Exhibit Information:
Tuesday, January 22nd: show opens
Saturday, January 26th: Opening reception, 6-9 pm
Saturday, March 2nd: show closes
184 S Main St, Independence, OR 97351
503-838-6171
rivergallery97351@gmail.com
rivergalleryart.com
Open Tues - Sat, 11am - 5pm