For twenty years River Gallery has specialized in Northwest Fine Art to Folk Art. It is home to the famed Wild Women Show each January. New exhibits of 2-D and 3-D art monthly.
Updated Hours
River Gallery is pleased to invite you to view our gallery art pieces and two new exhibits in the months of March + April 2021. Stop by to see our three rooms of art and the window show. Our hours for March + April are Fridays + Saturdays from noon - 4:00pm.
Remember that River Gallery has its own YouTube channel. Feel free to check it out at:
https://www.youtube.com/channel/UCTox1Q0WNXqkdktYc5vUGnw
Window Artist for March + April 2021 - Gerry Brehm
"I enjoy creating human and animal figures in clay and try to make them have a feeling of movement. I use earthy tones with a small amount of bright colors to accent the whole piece. Looking at the whole sculpture there should be a sense of wonder and placement."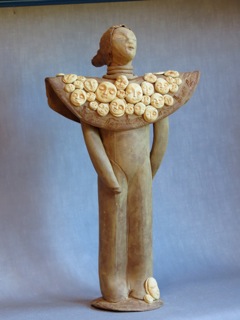 184 S Main St, Independence, OR 97351
503-838-6171
rivergallery97351@gmail.com
rivergalleryart.com
Thursday - Sunday, 12pm - 4pm