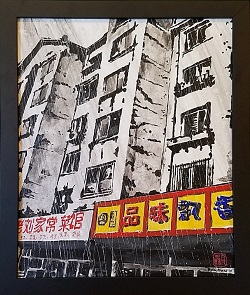 Originally from Winston, OR, it didn't take Thomas Rawdon any time to realize he had inherited the "art" gene from his talented father. Thomas earned his Master of Fine Arts, Interior Architecture & Design from the Academy of Art University, San Francisco, CA, after getting a Bachelor of Science degree in Interior Design from the Art Institute of Pittsburgh, PA. Preceding his enrollment at the Art Institute, Thomas also studied at the Mikelberg Advertising Art School and Museum Art Schools in Portland, OR.

Gaining his professional esteem as an artist as far back as Junior High when Thomas received his first commissioned request, it is no surprise his career has since encompassed 55 years of expertise working with a variety of artistic mediums, including large-scale interior and exterior architectural design around the world.

Being raised to know you can go into the world and do whatever you want to do, Thomas followed that philosophy and explored paths that allowed him to travel the world and be in fulfilling careers. He now shares that life of achievement through his art.