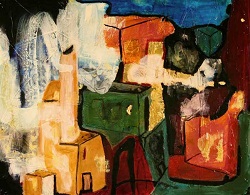 "In our everyday life practical necessities often reinforce a utilitarian perspective, which can become habitual. This mode of perceiving can deny us the enjoyment of sensing our world differently. In many respects, art allows us to engage in subtler levels of perception - or at least different modes of perception - compared to what we normally experience. As children, the shape of clouds reminded us of faces, animals, or cartoon characters, and we were fascinated by the colored lines in an ordinary rock. Similarly, art offers an avenue that can lead to these more enjoyable modes of awareness. And abstract art in particular can invite us to both engage our imagination and to sense something directly, referencing only one's own preferences and the image itself."

While painting, Stephen tries to be aware of what seems right, interesting, or appropriate in some way. Over time, the question of completeness and the degree of integration comes into play. Beyond that, a painting has to maintain his interest; i.e. He wants to keep looking at it for some reason. This could be called its longevity value. So those are the standards he deals with when painting - appropriateness, completeness, and longevity - and he thinks that they are common experiential factors for most artists and for those viewing art as well.

Stephen started showing his work in 1993 in Eugene, OR at the Alder Gallery. Since then he has also shown at the Studio Gallery in Los Angeles, the Omma Galleries in Santa Barbara, CA and in Hania, Crete, The Freed Gallery in Lincoln City, OR, and Vistra Gallery, Eugene, OR. Although he took art classes as an undergraduate, his academic degrees are in psychology (M.S. in Transpersonal Psychology).