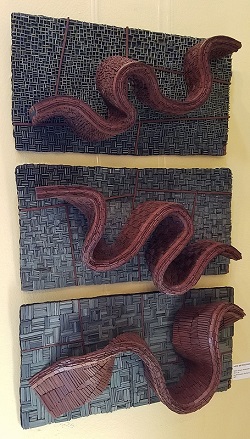 Scott started seriously creating mosaics in 2008 when he retired from a career as a software engineer. He is largely a self-taught mosaic artist but has experimented with many techniques and materials. Currently, he's working almost exclusively with slate which he sources from salvaged roofing tiles. He creates thin, fin-like pieces (tesserae) of slate, combines them into a cohesive flow and blends the limited colors to shepherd the viewer through each mosaic.

This material and technique speaks to Scott. He is, in fact, drawing lines as he lays down the fins of slate, and it feels like he's sketching with the thin tesserae. This has lead to a more spontaneous, improvisational approach to his work. He thrives on organic, abstract, geometric designs. When he works, he somehow plugs into his subconscious which frequently leads to surprises of unknown origins. He often can't explain from where his designs emanate.

When thinking about and creating a new piece, he needs an impetus to direct his efforts, to answer the "why" of the piece. He wants to deliver a message that is meaningful and in line with his beliefs. For Scott, the human impact on earth is most relevant and important. He chooses to make pieces that speak to the effect that humans are exacting on our little, rocky planet. Gaze upon the work, consider the title, study the description of the piece and you will grok his message.