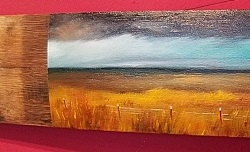 Art has always been a big part of Renee's life. From graphic designer, muralist, interior designer, art teacher to fine artist. If she's not doing some form of art, Renee feels a void.

Renee studied and received her degree in Visual Communication at the Colorado Institute of Art. She has shown at Art Elements Gallery, Blue Trout Gallery, sold work at many local wineries and business, and has had her work published in the Allison Inn & Spa 'Art of the Allison Collection' and '1859 Magazine'.

Renee feels very blessed to live in Oregon's wine country, which is where most of her inspiration comes from. She loves to incorporate recycled material into her art, from painting on old doors, moldings, and wine barrel staves, to having recycled material in her paintings themselves.

Renee got interested in painting on staves from listening to tourists wanting something of the wine country that they could take home with them. The staves are very durable, painted in oils and sealed with varnish, just throw them in your suitcase, bag, or trunk and go.