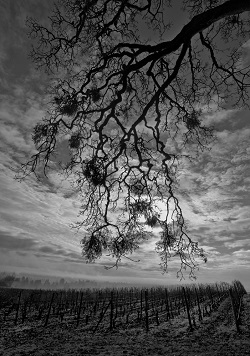 In 1972, Loren picked up a Deardorff 4X5 view camera, and began to organize the world on a four-by-five inch piece of frosted glass. Using a view camera and film encourages a meditative approach, allowing his subjects to invite him to photograph them. Loren develops the negatives, and produces selenium-toned silver gelatin prints in a traditional darkroom. Portfolios include landscapes, seascapes, botanicals, and "Under Wraps", a series on plastic-wrapped buildings.

"No matter how slow the film, Spirit always stands still long enough for the photographer It has chosen." ~Minor White

Loren's photographs are in numerous public and private collections, including the Portland Art Museum; The Visual Chronicles of Portland and Beaverton, Oregon; the City of Portland Portable Works Collection; Oregon State University Art About Agriculture collection; and The Allison Inn, Newberg, Oregon. He is represented by Wall Space Gallery in Santa Barbara, CA and Seattle, WA, the Portland Art Museum Rental Sales Gallery, and The Gallery at Ten Oaks in McMinnville, Oregon. He has served on the board of the Portland Photographers' Forum, and has been published in LensWork, B&W Magazine, Shots, and View Camera Magazine.

Born in Colorado Springs, Colorado in 1952, he lives in Beaverton, Oregon.