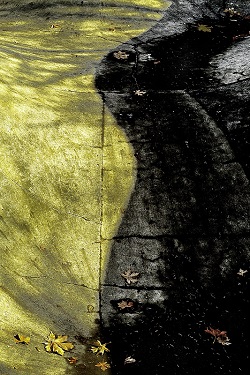 Jodi Kneeland's childhood was split between the towns of Toledo, OR, and McMinnville. In the past, Jodi has worked with people with intellectual disabilities in addition to working as the SMART coordinator within the local school district for years. Currently Jodi works as an office manager for a local surveying company between artistic ventures.

Retaining a passion for photography that hasn't waned since middle school, Jodi can sometimes be spotted outdoors with her camera. It was while capturing worn surfaces at local skate parks that her work caught the attention of fellow artist Jeanne Drevas, who, similarly enamored with distressed surfaces, then approached Jodi about doing a skate park show together.

"I travel locally; my neighborhood, my town, neighboring towns. I enjoy finding treasures of line, texture, color, and patterns in everyday things that are often passed unnoticed. I love most anything that is rusty, scratched, cracked, and/or showing signs of age-unconventional beauty, a life lived. This show has gotten me to focus on a series, returning to the same parks, discovering something new each visit."