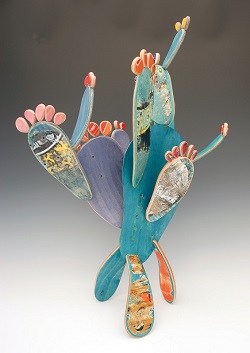 Jeanne Drevas was born in Washington DC, where she was raised in a Frank Lloyd Wright-inspired suburban community. Shortly after receiving her Bachelor of Fine Arts degree from the University of Connecticut, Jeanne began supporting herself as a potter.

Motivated by the objective to make something out of nothing, Jeanne has remained an artist throughout her adult life, recently making the transition from her handmade home in Virginia to join the community of artists here in the Willamette Valley. Inspired to collaborate with a fellow artist that was doing photo shoots of worn surfaces at skate parks, Jeanne is happy to have encouraged Jodi Kneeland to join her in what is Jodi's first gallery presentation of her work, in which both artists are fascinated by the distressed qualities of both the recycled skate boards and the concrete surfaces captured in Jodi's photos.

"I have a long history of gleaning materials around me and seeing what their DNA has to offer to my DNA. This analogy makes more sense when one is collecting bark off of trees, which was my last thorough delving into the possibilities of a material that fascinated me, I moved to Oregon four years ago from a sparsely inhabited area in the mountains of Virginia where I built my handmade hippie house."