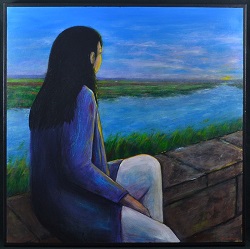 Born in Okinawa, Japan, Hirofumi displayed an early talent for the arts, drawing inspiration from the visually stimulating cultures he experienced as a child living in the United States and Europe. He studied graphic design and photography in college before becoming an accomplished and well-rounded artist: first as a successful musician and instrument builder, and later as a skilled craftsman of custom furniture.

His passion for painting began as a happy accident when he decided to try the traditional American craft of making floor cloths. Self-taught, he experimented with acrylics on canvas and his early works were impressionistic abstracts with an emphasis on bold colors. Glover's recent works are figurative paintings and Oregon landscapes.

Hirofumi's art has been featured in a number of Willamette Valley galleries and more recently, in Eastern Oregon. His work entitled "The Siblings" won the People's Choice award at Riverfront Gallery's Wild Women VIII juried art show in 2010, and he regularly provides commissioned pieces for both commercial and private collectors throughout the United States.

Glover relocated to La Grande in 2012, where the surrounding beauty of Eastern Oregon provides plenty of inspiration and opportunities to expand his current body of work.