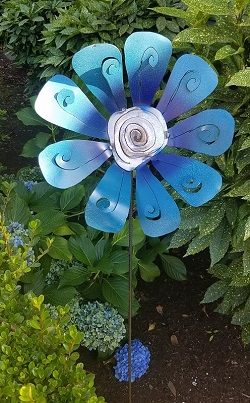 Born and raised in the San Francisco Bay Area she has been living in Oregon since 2002.

Born into a family of artists-her mother a world-renowned sculptor, her father a writer and brother a musician-the arts were in Cristi's blood from the start. After college and over the following 15 years, in addition to raising two sons with her husband Joe, she created and worked professionally and performed in a variety of art forms, including photography, graphic design, interior design, mosaic and of course her first love, dance.

In October 2006 Cristi happened upon a very rare and unique opportunity to apprentice with Czech master sculptor and McMinnville resident, George Stastny, who was retiring and looking to pass on the unique art form of his hand-carved concrete planters, fountains and firepots. With Cristi's dream to pursue the arts as a full-time career she knew this was an opportunity to not only fulfill this important life goal, but to carry on the unique art form George had created and perfected over the previous 26 years, which otherwise might possibly have faded away along with his retirement.

The marriage of her background in the arts and specifically her love and knack for design with her new skill in welding proved a success as since creating her first pieces she was promptly accepted into the renowned Cracked Pots Recycled Art Show, Lake Oswego Art Festival and Salem Art Festival. Her sculptures consistently sell out on Etsy and she has a list of commissioned pieces waiting to be created on a consistent basis. She has created sculptures for landscape architects private homes and for the gorgeous landscapes and sculpture gardens of homeowners from Los Angeles to Martha's Vineyard.

Her work, definitely Abstract in nature, is inspired undoubtedly by the beauty of nature but mostly by man's spiritual capability, though not always realized, to create beauty from nothingness and calmness from chaos. Cristi feels she has "finally found her voice with metal sculpture".