2 Pieces
Home
Fine Art by artist Joseph Majors - Description: A tri-fold piece that can be placed free-standing with a lamp inside, or opened up to be placed in front of a window. Enjoy the effect of backlighting coming through painted rice paper and plasma-cut steel in each of the three panels. Interior lamp included.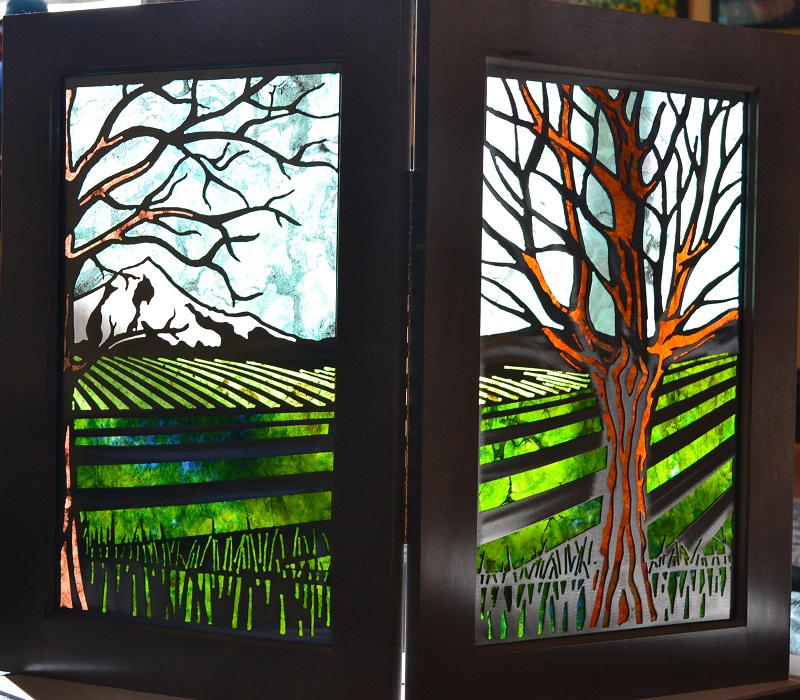 Artist: Joseph Majors
Home
Steel, Rice Paper and Wood Frame
23.5 x 48
$1,500 + Special shipping required; contact us for estimate
Serene Awareness
Fine Art by artist Joseph Majors - Description: An experiment in using components that were seemingly disconnected, and making a coherent realistic image from that. Here we have a heron reflected in this lake, conjured out of steel and copper and wood and watercolor. Plasma cut steel and copper in three-dimensional layers in front of painted watercolor backdrop, with interior adjustable, color-changing LED lighting with remotes, and can be mounted on to the wall or free-standing on pedestal with included stand. In-home installation available.

More from the artist: "As usual, I had an idea of what I wanted to convey, and was pleasantly surprised to see the piece had its own ideas. I'm very proud of it. This was one of those projects that took more time to plan and problem solve than physically build, though that was still an undertaking in itself; Many, many hours. The mounting and assembly system is a point of pride for me but that's probably only something fabricators would care about.

It's comprised of wood, watercolor, copper, and steel, as well as three carefully hidden/adjustable LED strips. Much of it is actually movable and the lights change color and tint, so that you can match the art to your mood, or to the weather. If you turn all the lights out at night, and turn off the middle LEDs, you get a fog effect that gives you an entirely different look and feel, essentially becoming a second work of art."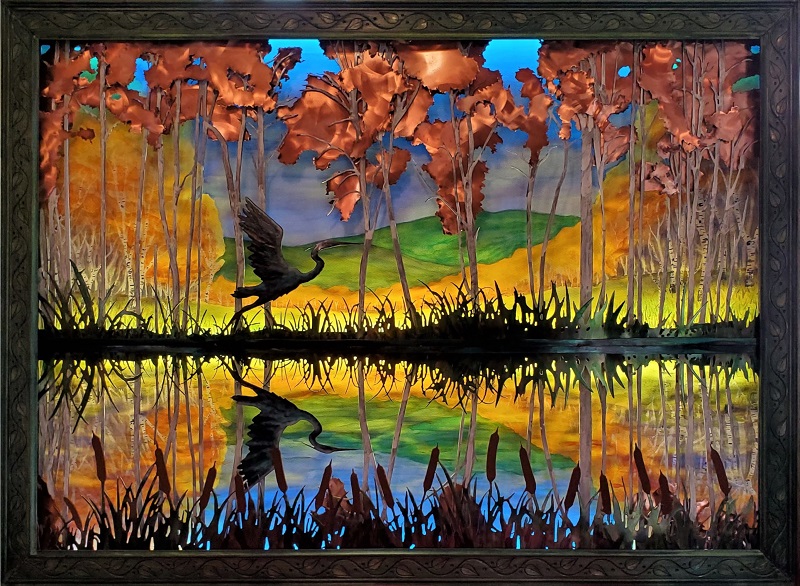 Artist: Joseph Majors
Serene Awareness
Steel, Copper, Watercolor and Wood Frame
37 x 50 x 3.5
$6,800 + Special shipping required; contact us for estimate